General FAQs
General FAQs
1. I upgraded to MCE 2005 and my tuner card does not work anymore...
MCE 2005 has much higher and stricter requirements for hardware and software installed on your machine than the previous version (MCE 2004). Most of the time you will need to upgrade other components in addition to the operating system (OS).
If you have already upgraded to MCE 2005 and are experiencing problems with your "live TV" please follow the steps below:
Download and install the latest driver for your Emuzed/Lumanate tuner card [downloads].
Run "Windows XP Video Decoder Checkup Utility" [download] to determine if your MPEG-2 decoder is compatible with MCE 2005.
There's MCE Test Kit utility provided by Microsoft that will expose any hardware or software that is not compatible with MCE 2005. Be advised: DO NOT INTERRUPT LONG TERM STRESS TEST as it backs up all recordings (*.dvr-ms -> *.dvr-ms-bkup) and restores them back only when test finishes!!! You can download the Test kit here.
Here are the most common reasons for MCE not showing live TV:
Issues with the graphics card:


Graphics chip is incompatible.
Not enough video memory.

There are special MCE compliant graphics drivers that must be installed. Pay attention when downloading the latest drivers from vendors (nVidia, ATI, Intel, etc...) web sites.
MPEG-2 decoder shipped originally with MCE 2004 might not work with MCE 2005. Usually MPEG-2 decoder comes as part of DVD playback application preinstalled by your OEM. Determine which DVD player is installed on your machine (Intervideo, Cyberlink, etc...), then go to the corresponding web site and get the latest MCE compliant decoder.
Third party decoder packs (Divx, Xvid, etc...) recently installed could make MCE show a black screen instead of video. While troubleshooting your problem it is best to uninstall all third party decoders from your machine.
2. What is "WHQL signed" driver?
To insure high quality in devices and device drivers shipped for the Windows operating system, Microsoft has established special Hardware Compatibility Tests (HCT) that developers can use for testing their products. After HCT is successfully completed for a certain device driver, the driver package is submitted to the Windows Hardware Quality Labs (WHQL) for secure signing. When the driver is signed, a special signature file (*.CAT) is returned from WHQL and included into the downloadable driver package.
A WHQL signature affects driver installation. Signed drivers install smoothly without any warning messages. On the other hand, during the installation of an un-signed driver (e.g., alpha or beta versions) a message pops up warning the user that the driver being installed did not pass Windows Logo Testing: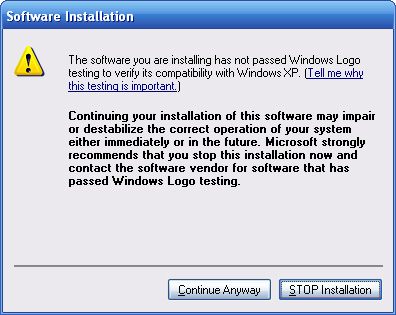 When knowingly installing an unsigned driver (e.g., an Alpha or Beta version), simply click on the "Continue Anyway" button to complete the installation.
3. Installing unsigned or Beta driver over the "WHQL signed" driver.
Windows XP Device Manager always gives priority to the "WHQL signed" driver even if it's version is lower than the version of the driver user is trying to install.
Right-click on the device in the Device Manager and select "Update Driver".
"Can Windows connect to Windows Update..." - "No, not this time". "Next >"
"What do you want the wizard to do?" - "Install from a list or specific location (Advanced)". "Next >"
"...search and installation options" - "Don't search. I will choose the driver to install". "Next >"
"Select the device driver you want to install..." -

IMPORTANT

- click "Have Disk..." button and browse to the folder where you put/unzipped driver files to.
If correct INF file is present Device Manager wizard will show a single option in the list. Select it and proceed with the installation...
October 12, 2010